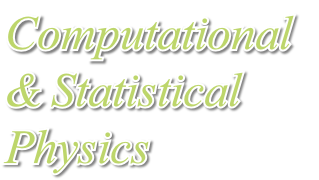 Above: Optimal paths of integration; phase-magnitude (color-intensity) plot of Sommerfeld integrand on the complex plane.
Below: Heterogeneous N-body problems in light emission and quantum effects; metal particles (red) and quantum dots (blue) in a bipolymer matrix
Our research group has two broad areas of focus. One part of the group has studied physics of light emission and emitter-matter interactions to develop theoretical ideas and computational models. Our theoretical work is tested through our collaboration with experimental groups. With light "what we get is what we see", meaning its apparent behavior largely depends on its parameters measured and the spatial, time and energy scales of its interaction with matter. Hence models are an essential complement and sometimes even a prerequisite to experimental studies today, and some of this work is aimed at realizing new materials.
The other area of interest includes methods for numerical or statistical computing and their analysis. Our analysis mostly uses working mathematics to minimize abstraction even while trying to maximize generality. This work may combine mathematics and computational solutions as general-purpose methods for scientific/engineering problems.
In the beginning there was nothing. God said, 'Let there be light!' and there was light. Now there is still nothing, but you see it a whole lot better.
- A comedian's take on the Universe.
Welcome to the Computational & Statistical Physics Group IISc.